Introduction
If I exchange words with taxi drivers in a city somewhere in the world, one of the questions I am usually asked is: "where are you from?". As I do not like straight answers, I usually ask back "where do you think I am from?" It usually takes time before the driver gets the information he asked for. Then the next question is: "what is your job?". Again, instead of giving a straight answer, I ask the question: "do you know MPEG?" Well, believe it or not, 9 out of 10 times the answer is "yes", often supplemented by an explanation decently connected with what MPEG is.
Wow! Do we need a more convincing proof that MPEG has conquered the minds of the people of the world?
The interesting side of the story, though, is that, even if the name MPEG is known by billions of people, it is not a trademark. Officially, the word MPEG does not even exist. When talking to ISO you should say "ISO/IEC JTC 1/SC 29/WG 11" (next time, ask your taxi driver if they know this letter soup). The last insult is that the mpeg.org domain is owned by somebody who just keeps it without using it.
Should all this be of concern? Maybe for some, but not for me. What I have just talked about is just one aspect of what MPEG has always been. Do you think that MPEG was the result of high-level committees made of luminaries advising governments to take action on the future of media? You are going to be disappointed. MPEG was born haphazardly (read here, if you want to know how). Its strength is that it has been driven by the idea that the epochal transition from analogue to digital should not become another PAL-SECAM-NTSC or VHS-Betamax trap.
In 30 years MPEG has grown 20-fold, changed the way companies do business with media, made music liquid, multiplied the size of TV screens, brought media where there were stamp-size displays, made internet the primary delivery for media, created new experiences, shown that its technologies can successfully be applied beyond media…
There is no sign that its original driving force is abating, unless… Read until the end if you want to know more.
What did MPEG do?
MPEG-1 & MPEG-2
MPEG was the first standards group that brought digital media to the masses. In the 2nd half of the 1990's the MPEG-1 and MPEG-2 standards were converted to products and services as the list below will show (not that the use of MPEG-1 and MPEG-2 is confined to the 1990's).
MPEG-4
In the 1990s the Consumer Electronics industry provided devices to the broadcasting and telecom industries. and devices for package media. The shift to digital services called for the IT industry to join as providers of big servers for broadcasting and interactive services (even though in the 1990's the latter did not take off). The separate case of portable audio players provided by startups did not fit the established categories.
MPEG-4 played the fundamental role of bringing the IT industry under the folds of MPEG as a primary player in the media space.
MPEG-7
MPEG-A
MPEG-B
MPEG-H
MPEG-DASH
Streaming on the unreliable internet: Dynamic Adapting Streaming on HTTP (DASH) is the widely used standard that enables a media client connected to a media server via the internet to obtain instant-by-instant the version, among those available on the server, that best suites the momentary network conditions.
What is MPEG doing now?
In the preceding chapter I singled out only MPEG standards that have been (and often still continue to be) extremely successful.
I am  unable to single out those that will be successful in the future ?, so the reasonable thing to do is to show the entire MPEG work plan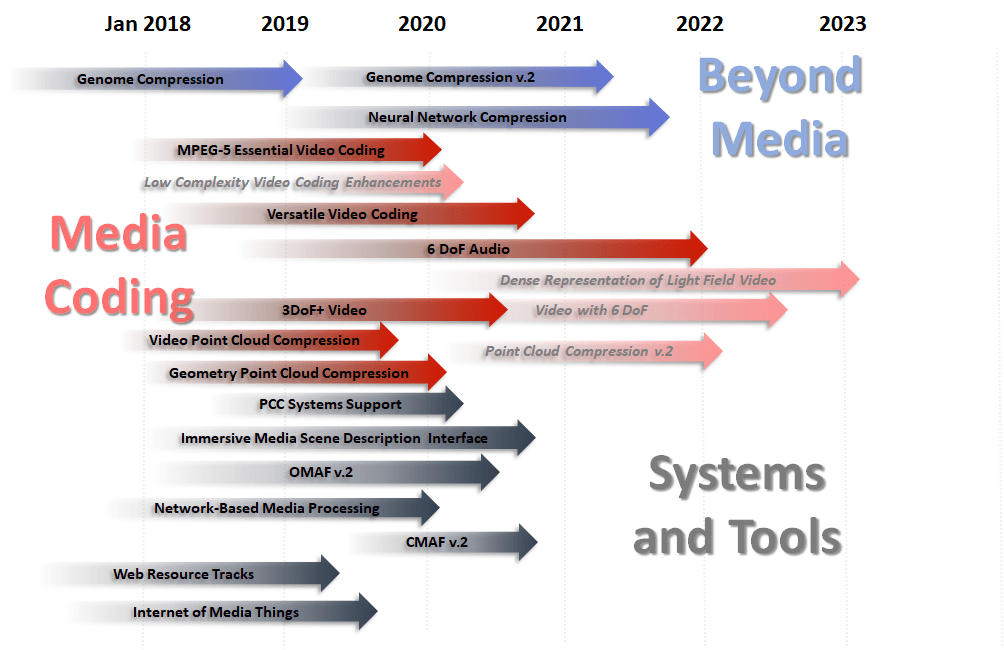 At the risk of making the wrong bet ?. let me introduce some of the most high profile standards under development,  subdivided in the three categories Media Coding, Systems and Tools, and Beyond Media. But you have better become acquainted with all ongoing activities. In MPEG sometimes the last become the first.
Media Coding
Systems and Tools
Beyond Media
What will MPEG do in the future?
At the risk of being considered boastful, I would think that MPEG should have deserved attention from some of the business schools that study socio-economic phenomena. Why? Because many have talked about media convergence, but they have forgotten that MPEG, with its standards, has actually triggered that convergence. MPEG people know the ecosystem at work in MPEG and I for one see how it is unique.
This has not happened. Let's say that it is better to be neglected than to receive unwanted attention.
I would also think that a body that started from a Subcommittee on character sets and has become the reference standards group for the media industry, i.e. devices, content, services and applications, worth hundreds of billion USD with potent influences on a nearby industry such as telecommunication, should have suggested standards organisations to study the work method and possibly apply it to other domains.
This has not happened. Let's say, again, that its is better to be neglected than to receive unwanted attention.
So can we expect MPEG to continue its mission, and apply its technologies and know how to continue delivering compression standards for immersive experiences and new compression standards for other domains?
Maybe this time MPEG will attract attention. So, don't count on it.
Posts in this thread