Introduction
In No one is perfect, but some are more accomplished than others I have started a 360 ⁰ analysis of MPEG strengths, weaknesses, opportunities and threats considering the Context in which MPEG operates, the Scope of MPEG standards and the Business model of the industries using MPEG standards. Subsequently, in More MPEG Strengths, Weaknesses, Opportunities and Threats I have considered the Membership, the organisational Structure and the Leadership.
In this article I would like to continue the SWOT analysis and talk about MPEG's Client industries, Collaboration with other bodies and the Standards development process.
Client industries
Strengths
MPEG can claim as a strength something that others may consider a weakness. When MPEG was created, MPEG did not have a reference industry. It did create one little by little starting from Telecom and Consumer Electronics (CE), the first two industries members of which supported the MPEG-1 standard. Broadcasting became another client industry with MPEG-2 and IT another with MPEG-4. Industry participation followed with mobile telecom, VLSI and more.
Why do I call this a strength? Because MPEG did not have a "Master" dictating what it should do, but many masters. With this MPEG was able to develop standards that were abstracted from the specific needs of one industry and was able to concentrate on what was common to all industries served.
MPEG was always very aggressive in looking for customers. When you do something it is always better to talk with those who have clear ideas about what the something can do for them. This effort to reach out has paid because the standards were "better" (they provided the intended features) and the customers were ready to adopt them. 3GPP, ARIB, ATSC, BDA, CTA, DVB, ETSI, ITU-T/R, TTA are just dome of the organisation MPEG has developed standards for.
The result is that today MPEG has an array of industries following its lead.
Weaknesses
Success is a hard master. If you don't pile up more successes than before you seem to fail.
The MPEG-4 Visual licence signalled to the IT world that the business model was still driven by the old paradigm and that IT companies needed to find something else more familiar to them. The web was the perfect place where this could happen and did happen.
Interestingly, the old categories of Telecom, CE, Broadcasting, IT gradually came to lose their value: Telecom had a lot to share with IT and needed CE, and CE continued to serve Broadcasting with its devices, but added mobile and morphed to something hard to distinguish from a manufacturer of IT devices.
MPEG had its hands largely tied in this global transformation and the result is that a significant proportion of what MPEG can claim to be its client industry is not (or no longer) following its lead.
Opportunities
Still MPEG is appreciated by many non-ISO industries, less so by organisationally closer ones, because it the organisation you are considered for your level, but in industry you are considered for what you are.
Therefore MPEG has the opportunity not only to recover old client industries, but also to acquire new ones.
Threats
The most challenging threat is the breaking up of the MPEG ecosystem into a set of more or less independent components. This would be a big loss because today industry knows they can come to the MPEG "emporium" and get the integrated technologies they need. With MPEG broken up in pieces there will be a strengthened competition from individual environments who can offer the same individual pieces as the broken up MPEG can offer.
The threat to MPEG can also come from industries abandoning MPEG not because its standards are the best, but because MPEG standards cannot compete on other features.
Another threat comes from the possibility for industry consortia to build their own specifications by aggregating MPEG building blocks rather than propose a new standard to MPEG.
Collaboration with other bodies
Strengths
MPEG has always had an open attitude to collaboration with other bodies operating in neighbouring fields. 3GPP, AES, IETF, ITU-T SG 16, Khronos, SCTE, SMPTE, VRIF, W3C are just some examples
We have had many collaborations with
ITU-T SG 16: MPEG-2 Systems and Video, MPEG-4 AVC, MPEG-H HEVC, MPEG-I VVC, and Coding Independent Code Points (CICP)
TC 276/WG 5: File Format, Genome Compression, Metadata and API and Reference Software and Conformance in a week time
SC 24: Augmented Reality Reference Model
MPEG has developed many standards for other committees
JPEG: developed the file format for JPEG and JPEG 2000, developed the MPEG-2 transport for JPEG 2000 and JPEG XL
3GPP: DASH was originally suggested by 3GPP and developed in close consultation with this and other committees.
The broad scope of MPEG standards offers more opportunities to collaborate and provide better and better focused standards.
More about MPEG collaboration on standard development at Standards and collaboration,
Weaknesses
The lowly WG status reduces MPEG's ability to deal with other bodies authoritatively.
Opportunities
MPEG is not part of those who think they can do everything that is useful by themselves. The time devices and services were controlled by a major technology are long gone. MPEG technologies are present in a large number of devices, but to be useful those devices need to integrate other key technologies as well.
Therefore more collaborations are vital to the success of MPEG standards:
MPEG has a Internet of Media Things (IoMT) standard that may have dependencies on what KTC 1/SC 41 IoT is doing
JTC 1/SC 42 is in charge of Artificial Intelligence (AI). Neural Networks are an important AI technology. MPEG is working on a Neural Network Compression standard
MPEG has developed Network Based Media Processing, an implementation of the Big Data Reference Model developed by SC 42
MPEG is extending the glTF™ (GL Transmission Format) 3D scene description specification developed by Khronos
Collaboration is a great tool to achieve a goal based on common interests with other committees.
Threats
Less collaborations is a threat because it means less opportunities to develop good standards that extend to other fields!
Standards development process
Strengths
The process to develop standards is a major MPEG strength. It is a thorough implementation of ISO/IEC process with major extensions added to seek technology with Calls for Evidence (CfE) and Call for Proposals (CfP), develop the standards with Core Experiments (CE) and prove value of standards with Verification Tests (VT).
The figure illustrates the major elements of the MPEG standard development process.

Some industry participantscomplain about the ISO process to develop and approve standards. For MPEG that process is an excellent tool that allows the development of better standards, not a bureaucratic imposition.
Weaknesses
In a positive context there is one weakness. A major value of MPEG standards lies in the fact that standards are typically multi-part and that the parts have been designed to interact with one another. MPEG has a lean organisation that promotes focus on technical matter and chairs coordination meetings that monitor progress of work and identify area of interaction or contention between different technical areas. The figure represents the interaction between and among different parts of a standard.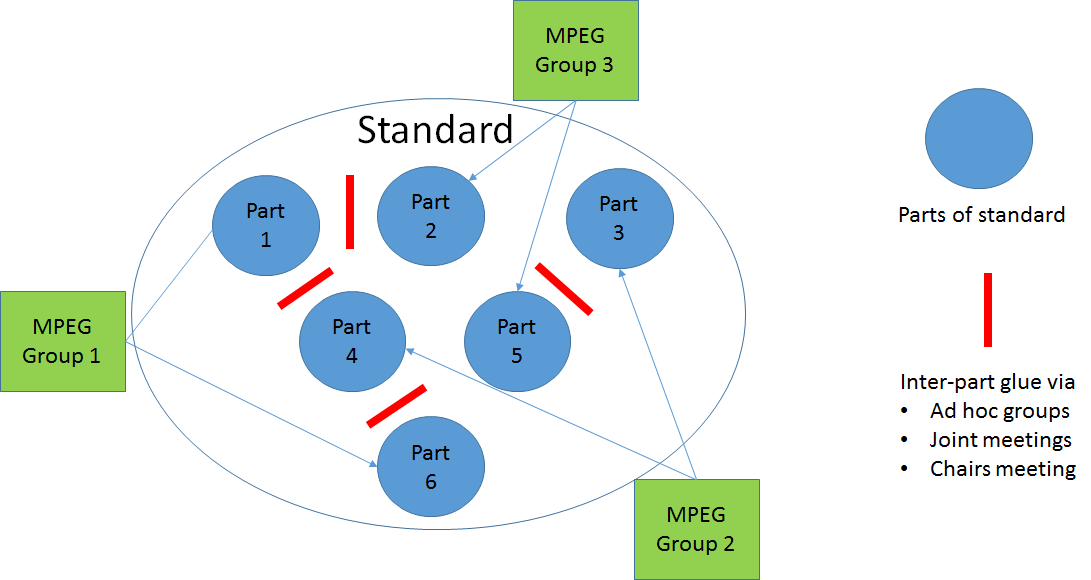 In spite of the essential role played by coordination, this function has an ad hoc nature, which is a weakness.
Another weakness is the fact that at meetings there are so many interesting things happening but not enough time to follow them all.
Opportunities
There are great opportunities to improve the MPEG standard development process. Institut Mines Télécom has lent its ICT support to MPEG and Christian Tulvan has done – and he is doing – a lot to provide more tools. MPEG is facing the current Covid-19 emergency with new ICT tools provided by Christian.
It would be great if the MPEG ICT tools could be integrated in the ISO IT platforms.
Threats
The big threat is the breaking up of the MPEG ecosystem.
Posts in next thread
Posts in this thread