In Leonardo: who I am, what I did so far and what I plan to do next, I have given some information on myself and listed my challenges in standardisation. In this article I intend to provide some more details about the challenges of a strategic planning for an organisation as special as MPEG. This is the list
Uphold the role of MPEG as the unmastered and non-discriminatory source of digital media standards
Most ISO committees are the direct expression of a particular industry. Most secretariats are the expressions of the policies of the country in which the secretariat is located. MPEG was established having the opposite in mind, namely a committee that would develop standards that were industry and country agnostic. The first standard MPEG-1 targeted products and services for the Telecom and Consumer Electronics (CE) industries, the second standard MPEG-2 added the broadcasting industry. The third standard MPEG-4 added the Information Technology (IT) and mobile industries.
For 30 years MPEG has been remarkably able to keep its standards country-, industry-, company-, individual-independent. What will happen if, say, Information Technology took control of MPEG? What will happen if a major country took control of MPEG? What will happen if an alien business model took control of MPEG? What will happen if a major company took control of MPEG?
These are very serious questions and I am not sure if the global industry and world population would like the answer to these questions.
There is a second aspect, somehow related with the above, that need to be made explicit. This is the need to keep MPEG as the non-discriminatory source of digital media standards. For someone who has operated in the unmastered world of MPEG for many years, an MPEG standard is the result of the efforts of those who wanted to participate in the endeavour that produced the standards. No one should be denied participation. This does not mean that anybody can actually add technology to a standard, because MPEG is an extremely competitive environment striving to produce the best. Therefore only the best technologies are selected.
Once the standard has been produced, it should be accessible to all those willing to pay for the benefit of using excellent technology.
The idea that only some qualify to contribute to the standard or to use the standard seems to take hold in some quarters. This is an idea that MPEG should fight. MPEG should be unmastered and not discriminate against anybody.
Expand the use of MPEG standards to insufficiently reached market areas
I am not negative to the fact that in some market areas MPEG standards are not used to the extent the quality of the technology would promise. The worst that can happen to an organisation is that it occupies all the space and its members are left without goals to achieve. For instance digital cinema does not use MPEG standards and production uses only partly MPEG standards. These, however, are not real concerns because they are markets where devices or applications are counted by the thousands.
The real concern is video distribution over the internet, because distribution is what MPEG is mostly about, but MPEG never had an easy life in this segment. In the early 2000 there were companies eager to try video and audio distribution on this new medium using MPEG-4 Visual. No way, the MPEG Visual licensing terms were disappointing. MPEG-4 AVC fared definitely better with business-friendly licensing terms and a single patent pool. AVC is universally used even though competitors like P8 and VP9 did emerge. The problem is that AVC is a 15+ year old technology and what was due to be its successor HEVC is definitely underperforming with reportedly only 12% market share. Some blame licensing terms and multiple patent pools and a large number of patent holder not belonging to any patent pools. MPEG has developed DASH and CMAF and can offer the full protocol stack with its media standards. The streaming market, however, is taking different directions..
Keep MPEG constantly abreast of technology and market development
There is not doubt that MPEG knows how to stay abreast of technology development. Almost all of its standards are anticipatory of products, services and applications to come. Currently MPEG is engaged in several technology-deep investigations. One is Video Coding for Machines (VCM). VCM is expected to be the standard that allows remotely placed cameras to extract machine-understandable information, compress it and send it to a machine to use. The problem is that machines can be good for routine work, but what if something happens remotely and a human must intervene? The same information designed for machines should be usable by a human, possibly with the best quality that regular video coding can yield. Another exploration is video coding based on deep neural networks (DNN). We already know that some tools used e.g. in VVC could be replaced with more efficient DNN-based tools. The idea is to investigate the improvement of DNN based video coding technologies – both traditional schemes with some tools replaced or end-to-end DNN coding systems – over existing MPEG standards.
This is all good and no one can blame MPEG for developing the standards that have brought industry convergence, catered to its continuous development and made media a daily continuous experience. However, MPEG, as a group, is not aware of what is happening in the market. This should change. The idea is to create a Market needs group, the counterpart of the technology driven Requirements group. By having these two groups interacting we can still rely on a technology-based forward looking group mitigated by a market-savvy group, as depicted in the figure below.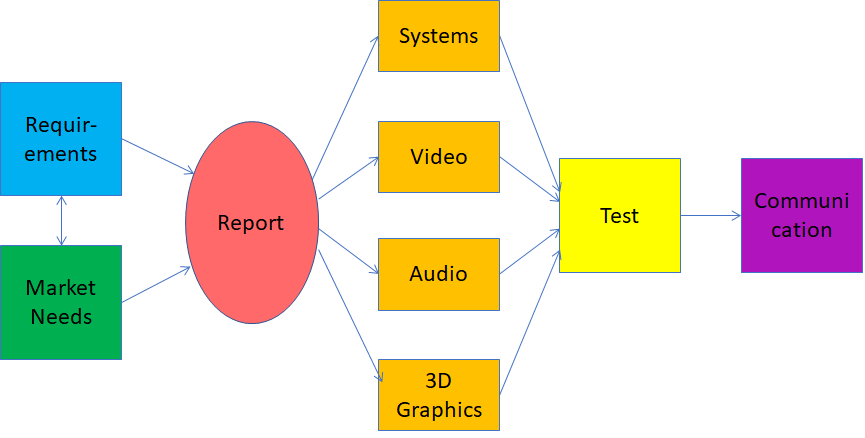 Develop standards in emerging fields of MPEG's traditional media domain
This strategy element confirms what we have been saying all along. MPEG is well aware of what the world of digital media technology can offer because is members are for most part (~3/4) from industry and for a smaller part (~1/4) from academia. The core of MPEG customers is interested in media standards and MPEG has much to offer in terms of standards that are close to availability or still under investigation, e.g.
Video-based Point Cloud Compression (V-PCC)
Graphics-based Point Cloud Compression (G-PCC)
Neural Network Compression
MPEG Immersive Video (MIV)
MPEG Immersive Audio (MIA)
Session based DASH operation
MPEG-I Scene Descriptions
Low Complexity Video Coding Enhancements
Deep Neural Network (DNN) based Video Coding
Video Coding for Machines
And many other standards.
Collaborate with other committees by developing joint standards when mutually convenient
In companies and standards alike the NIH (Not-Invented Here) principle rules. This is understandable, because if you have been working in a field for long enough you think you know everything in your field. The problem is that in our age technology is fluid. Something that is developed for a purpose, might equally well be usable for another purpose. I mention a case that MPEG is aware of where technologies for video coding or media file format have been successfully adapted for use in compressing the reads from high speed DNA sequencing machines. MPEG should embrace collaboration with other groups even more than it has done so far. Three examples are Big Data, for which MPEG has already developed Network Based Media Processing, Artificial Intelligence for which MPEG is developing Neural Network Compression and investigating AI-based video coding and Internet of Things for which MPEG is working on extending its Internet of Media Things standard keeping an eye on Video Coding for Machines.
Cultivate new and enhanced relationships with industry, MPEG client industries and academia
MPEG has not been shy to make the first step approaching the industry. MPEG can wave the flag of being a committee that is agnostic to countries and industries, but this comes at a high cost because your work can fall in a vacuum.
For years MPEG has been the merchant who devised all sorts of tricks to get the attention of different industries through their fora. The efforts have been rewarded: MPEG regularly talks with the main bodies representing broadcasting, fixed and mobile telecommunications, and package media at the international and regional level.
MPEG has also aggressively sought to collaborate with other bodies in the development of common standards, the best examples being the common video coding standards developed with ITU-T. MPEG has developed standards on commission from other bodies such as JPEG and 3GPP.
MPEG can also boast to have an extended community of followers in industrial research and academia. Indeed ¼ of its members are from academia.
Is this enough? No, it used to be enough, but it is no longer sufficient. MPEG makes in advance investigations that should involve academia and MPEG needs in advance information on the technologies that generate the data that it will be asked to reduce to a manageable form. It is a new form of deeper liaison that should be developed and implemented. Then, of course, you never talk often enough with your customers…
Enhance the MPEG image and standing across the industry
MPEG has a unique brand and its logo is universally known, but the fact that there are market segments where MPEG don't play the role they could is an indication that the MPEG imaged must be beefed up. Of course, I am not talking of a marketing exercise, but of something that goes at the roots of what MPEG is: the principles that guide its activity that have kept making bigger the lowest organisational unit in ISO; its business model that guarantees that there is always new technology coming in because there is old technology that is being remunerated; its structure that combines flexibility with identification of responsibility; uniquely competent and dedicated personnel; a modus operandi that is the result of decades of honing; the academic and industrial network that has MPEG as its hub; the experience accumulated over the years and the ability to adapt itself to new conditions; and its technical and market achievements.
MPEG must define this multi-threaded presence and task a revamped Liaisons and Communication group to establish and maintain it.
Reach out to other domains for which data compression may be a business booster
The proposal to identify data compression as one of the axes of the information society failed, but the idea that generated it is pretty much alive. Countless application domains generate data: media, industry 4.0, health, automotive to mention a few. Most of these data are simply not used or seldom used because there is no economic means transmit, store or process them. The MPEG-G standard proves that MPEG technologies can be used to make an application domain flooded with data more efficient.
Establish an ongoing process to assess MPEG's relevance in fulfilling its mission
MPEG likes to boast the fact that it is a working groups but it has produced more standards than any other JTC 1 subcommitee. Great, one could say, but that statement could be compared to the statement of a book publisher who publishes more book than its competitors, but its books pile up in its warehouses.
Fortunately that is not the case. Products and services that use in a determinant way MPEG standard are worth 1.5 trillion dollars a year.
This does not mean that the efficiency of MPEG has reached its limits. Before I have mentioned the need to create a Market needs group to compensate the exclusive technology driver of technology in MPEG. That, however, is not sufficient. MPEG must be able to answer the question: why did a standard A on which so many efforts have spent did not have the adoption that it deserved? Was the idea wrong? Were the requirements wrong? Were the technologies used in the standard unsuitable? Was profiling wrong? Was it because there was another better solution on the market? If so why were we not able to add the right requirements? Was it because the licensing terms were rejected? And you can add more.
If we will be able to answer these and other questions we will probably not be able to save the standard, but we can probably inject into our standard development process feedbacks that we got from unsuccessful standards.
Defend the MPEG business model by adapting it to changing conditions
I continue to believe that the MPEG business model of making good standards that reward good technologies is the best in the context of a rapidly evolving technology scenario. It is not the only one, however. You can develop option 1 (a.k.a. royalty free) standards that only use 20+ year old technologies or you can develop royalty free standards by buying a set of patents that allow you to build a codec with a performance that is sufficient for your needs etc.
It is clear that the MPEG business model is under threat and that something must be done to defend the MPEG business model – the only one that can provide the best standard at a given time – against those threats.
There are probably several ways. One has been attempted with Essential Video Coding (EVC). Under changed conditions, it is the same approached used in MPEG-2 times. Backward Compatible (BC) MPEG-2 Audio was not faring well, so a Non-Backward Compatible (NBC) MPEG-2 standard was developed in the hope that those engaged in BC would try harder to counter NBC. Eventually BC people lost but MPEG gained because MPEG-2 AAC is the progenitor of the extremely successful MPEG-4 AAC standard.
EVC is clearly a competitor to HEVC. If HEVC will have a good licence EVC will fail, but if HEVC continues have a complex situation, EVC will win. In both cases MPEG will gain.
Define and establish a management-level succession process based on community preferences.
MPEG is not a hierarchical organisation. This does not mean that it does not need leaders. ISO gives the secretariat a lot of power in nominating leaders. This may be good in other areas but it is not the ideal solution for MPEG. Such an ideal solution may not be a plain election, but for sure the community should have a say in how leaders are appointed.
Posts in next thread
Posts in this thread